Gottex Swimwear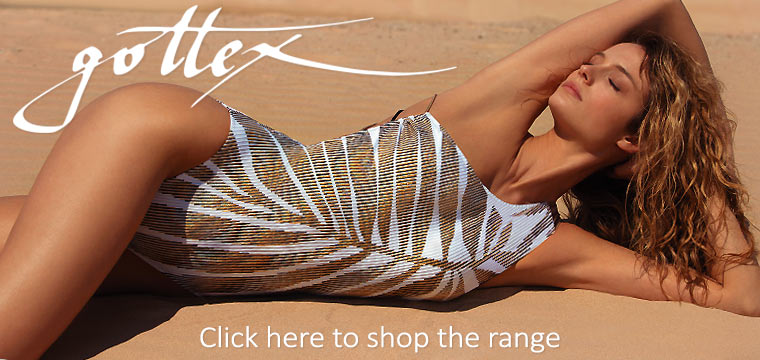 You'll soon see that we have the largest Gottex swimwear ranges online.
Gottex is a name in the world of swimwear that is simply impossible to not know about if you are a lover of great swimwear. It is perhaps the best brand of swimwear in the world, of any kind, type or audience. But why? What has Gottex got that others don't? There is so much to love about them and here we are going to explore some of the Gottex range and find out what makes Gottex swimwear so amazing.
What Does Gottex History Tell Us About Their Brand?
Gottex began their journey in 1956 in the newly founded city of Tel Aviv. The story of their foundation is a pretty perfect one, as being based where they are is a great boon to their collection. Tel Aviv is in Israel and it borders three seas, the Mediterranean, the Red Sea and the Dead Sea. Tel Aviv is right on the coast of the Mediterranean, but the others are within a short trip of the city. This is important as all great swimwear designers come from areas that offer them inspiration for their collections. With three different bodies of water and three different coast lines, and three different temperature and climate areas to inspire them, you get some very diverse imagery in each collection.
Where Else Does Gottex Get There Inspiration From?
Well, apart from their setting we mentioned above, Gottex fashion also has some other sources of inspiration. Of course, there is the time frame too. 1956 was a big time for swimwear, with so many new waves of fashion we still wear today becoming big. It was the time of the Hollywood starlet and the beginning of a whole new era of colour movies, so bright shades were all the rage thanks to the impression that cinema was making on the world. The costumes were coming to life and so was fashion and the 50s and 60s became a time of immense liveliness and beauty. As with any new designer, Gottex is full of passion and bright ideas during their first few seasons, and they are ready to get going and show the world what their fashion swimwear has got. With this incredible inspiration around them combined with their new passion and vision, they soon became one of the best new designers in the industry.
What Ranges Do Gottex Swimwear Make?
Gottex Profile is their answer to support swimwear and slimming swimwear, sculpting your figure gently but without any discomfort. Gottex Cruise is their high end range, and although everything Gottex does is high quality and luxury, this is the pinnacle of ostentatious and gorgeous design that they always aim at. Gottex Contour is another range of their's that is very much like Profile, but with less of a concentration on support and more on sculpting. Really there is a Gottex range for everyone so long as stunning designs made with incredible quality is the thing for you.